Who doesn't adore stickers for phone cases? You have little to no chance of being rejected whether you distribute them to young people, adolescents, college students, or full-time workers. Because they have solidified their position as a necessary marketing component, stickers are among the most popular print items to this day.
Phone case Stickers are an excellent tool for promoting brands. Additionally, stickers are used to decorate objects like phone cases. You may promote your company in various ways by using iPhone case stickers, whether you make them yourself or request that your clients do so.
But What Makes Them Unique?
Stickers stand out for various reasons, including the types, sizes, shapes, and slogans they bear. There are many different kinds of stickers. Sometimes, these stickers can be identified by their size or application style.
Bumper and customized stickers are the two main types covered in this article. While the second sort of sticker is based on personalization, the first kind is identified by the function for which it will be employed. Learn more by reading the post.
A Guide To Custom Stickers
Custom stickers are explicitly made for a customer's needs and are not standardized. These stickers give the user much creative freedom and are frequently made with a specific purpose. The following guidance can help you understand it more clearly.
These stickers can be made of paper, plastic, vinyl, and other materials. The sticky portion of the sticker has pressure-sensitive adhesive on one side.
There are numerous uses for these stickers.
These stickers can be used for advertising, spreading a vital message to the neighborhood, promoting a cause, and more.
All sorts of stickers can be customized. Hence personalized stickers include all sticker types. Customized stickers are used by several business sectors, including automotive, textiles, and food and beverage manufacturing, to boost sales of their goods.
Bumper stickers may or may not be beautiful gifts, but personalized stickers are always appreciated.
The Psychological Aspects Of Stickers
Before getting too technical about stickers, let's first examine the appeal and popularity of stickers. With stickers, we may express ourselves. The days of phones that flipped slid and had bizarre forms and hues are long gone.
Because it's difficult to tell them all apart, we bet you've picked up a phone or tumbler that wasn't yours. In addition to stopping this from happening, stickers allow the owner's personality to shine through in their possessions.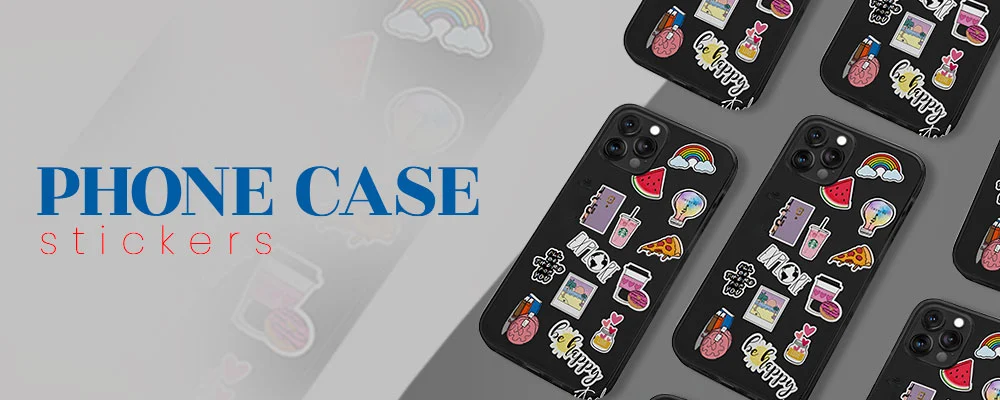 Markers are commemorated with stickers. While you can record unforgettable moments on camera and in a movie, wouldn't it be lovely to get a souvenir sticker to remember the fun?
The recipient is sure to experience a sense of belonging when stickers are utilized to promote a movement, message, or political allegiance. This good feeling intensifies when other people recognize and express their shared interests.
Pros
People who wish to alter or enhance the one thing they can't live without will find that custom cell phone cases are simple to get and appealing. There are various advantages to developing and selling your custom phone cases as a company if you're seeking mobile phone case stickers online:
Their compact size makes shipping and inventory management more effortless.
Their productivity could be more impressive.
They can be bought and sold offline as well as online.
You have two options: print on demand initially for lower risk or purchase in bulk to maximize revenues.
44% of smartphone users who update every two years have fresh opportunities with each new phone model.
There will be competition, as there usually is in sectors with low entry barriers. You need a small share of this enormous market to be prosperous.
Why Is A Pack Of Phone Case Stickers Useful?
Stickers are employed for a wide range of purposes. They can be use as a branded decorative feature or to convey critical information like "flammable" or "fragile." Informational labels help create a positive first impression since buyers notice them before they open the box because they are frequently found on the outside of packages. Typically, decorative stickers are applied on iPhone cases. 
Value In Marketing
Stickers and labels may help you generate an excellent first impression as soon as the customer receives their phone case sticker pack. This straightforward fix can improve the unboxing experience for your products.
For a genuine sense, you can add artwork stickers with your designs and logos or write a silly personalized note. Stickers can provide a fun aspect to your items while enhancing your brand at a low cost and driving your company's marketing value.
Communication
Customers may learn a lot about your brand via stickers. There is a lot of space to communicate, whether it's how much thought you put into the packing experience or just giving information about the product.
Phone case Stickers pack quickly and easily enhance your brand's narrative and overall experience. Other stickers express what your brand stands for and how your customers may benefit the most from your items, even though some of the communication is more implicit.
Suggestions For Materials
There is a sticker material for whatever style of design and appearance you're striving for. Explore some unique material alternatives for your phone cover sticker pack and let your creative side go. This is a chance for you to make a positive impression on your clients and improve their product unboxing experience.
The best materials for printing stickers and labels are listed below.
Polypropylene Is White And Transparent
Polypropylene labels are less expensive than vinyl that can withstand the elements. For this kind of sticker, there are many different coating and adhesive options available, from transparent and water-resistant labels to chrome and mirror-like ones. White labels can endure contact with oil and water and have a permanent adhesive.
Destructible
Choose a sticker made of destructible vinyl for security and safety. This sticker is of the tamper-proof variety and cannot be reused or easily pulled off. The most typical application for this sticker material is labeling packages as delicate.
Velvet, Felt, And Foil Paper
For a sticker that stands out more, foil paper stickers are the ideal choice. You can also choose felt or velvet because they give things more depth and an upscale appearance.
Additionally, using these unusual components in your stickers gives your customers a more engaging unpacking experience—no, it's longer just about the look but also the feel! This is a fantastic choice for packaging unique edition products or seasonal goods that engage buyers' senses.
Shrink-Wrap Stickers
Nearly serving as the packaging itself is shrink sleeve stickers. It does not provide your products with any protection. Thus it is still just a label. Heat-sensitive material with top and bottom apertures is what makes up shrink-sleeve stickers.
As heat is applied, the sleeve is wrapped around your goods and cemented into position. The sleeve will shrink when heat is applied and attached to your goods for a neat and secure finish. Shrink sleeves are employed to make graphics stand out without increasing costs or turnaround times.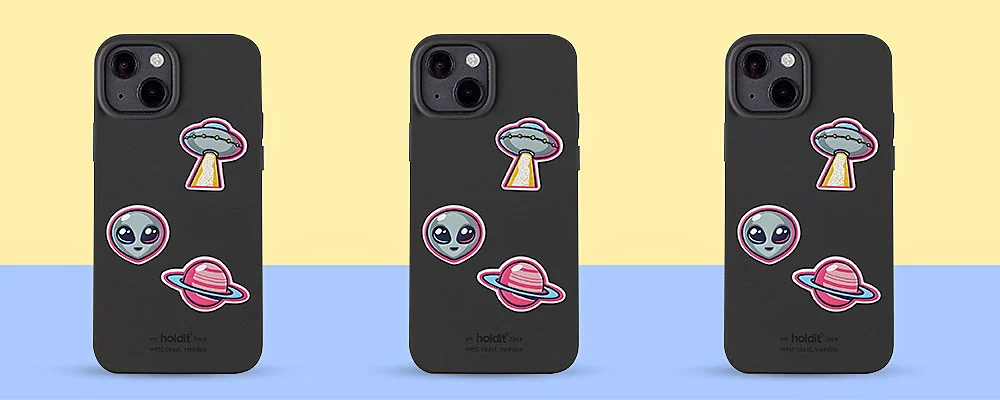 When you need complete product coverage, shrink-sleeve stickers are a choice for label printing. This kind of label is frequently use on bottles and tubes in the food business. However, the food industry is one of many that use this kind of label. A quick and inexpensive way to brand your items and packaging is with shrink-sleeve stickers! 
Printing Choices
Offset Sheet-fed
Sheet-fed offset is excellent for choosing small or medium orders because it enables individual sheets to be fed into the machine. Before committing to larger orders, you can use this method for minor sticker printing or label printing projects.
Digital
Digital is the finest option for outstanding detail and vibrant colors. Given that it is waterproof and weatherproof, this is the ideal choice for beautifully design and eye-catching phone case stickers. Stickers will print at a high resolution of 1440 dpi, guaranteeing that your design will stand out and uphold brand narratives. 
Rotary Offset
Another printing technique use for label and sticker printing is rotary printing. The graphics are printed after being bent around a cylinder. This is another excellent option if you want labels with bold colors and a more lively appearance. It's time to look at the necessary finishing touches now that we've look at printing possibilities for a custom phone case sticker pack. 
Flexo
Flexo printing sometimes referred to as flexography, is more of a more cost-effective choice that you may make without compromising quality. This is the finest choice if you're seeking a low-cost label printing solution that looks amazing.
This label printing technique makes use of flexible rubber plates. Your design is then create and prepare for printing by rolling ink onto the plate. The final image is produce by the plate pressing against substrates. With this method, you may print a good-quality sticker for your phone case. 
Wrapping It All Up
After reading this text, you will have a basic understanding of the phone cover stickers pack. You should invest in these stickers if you are in charge of a company, run one, or wish to motivate your staff. Remember that hundreds of people who pass your car on the street, come into your business, or go shopping will see the phone case stickers. As a result, quality cannot be compromised.